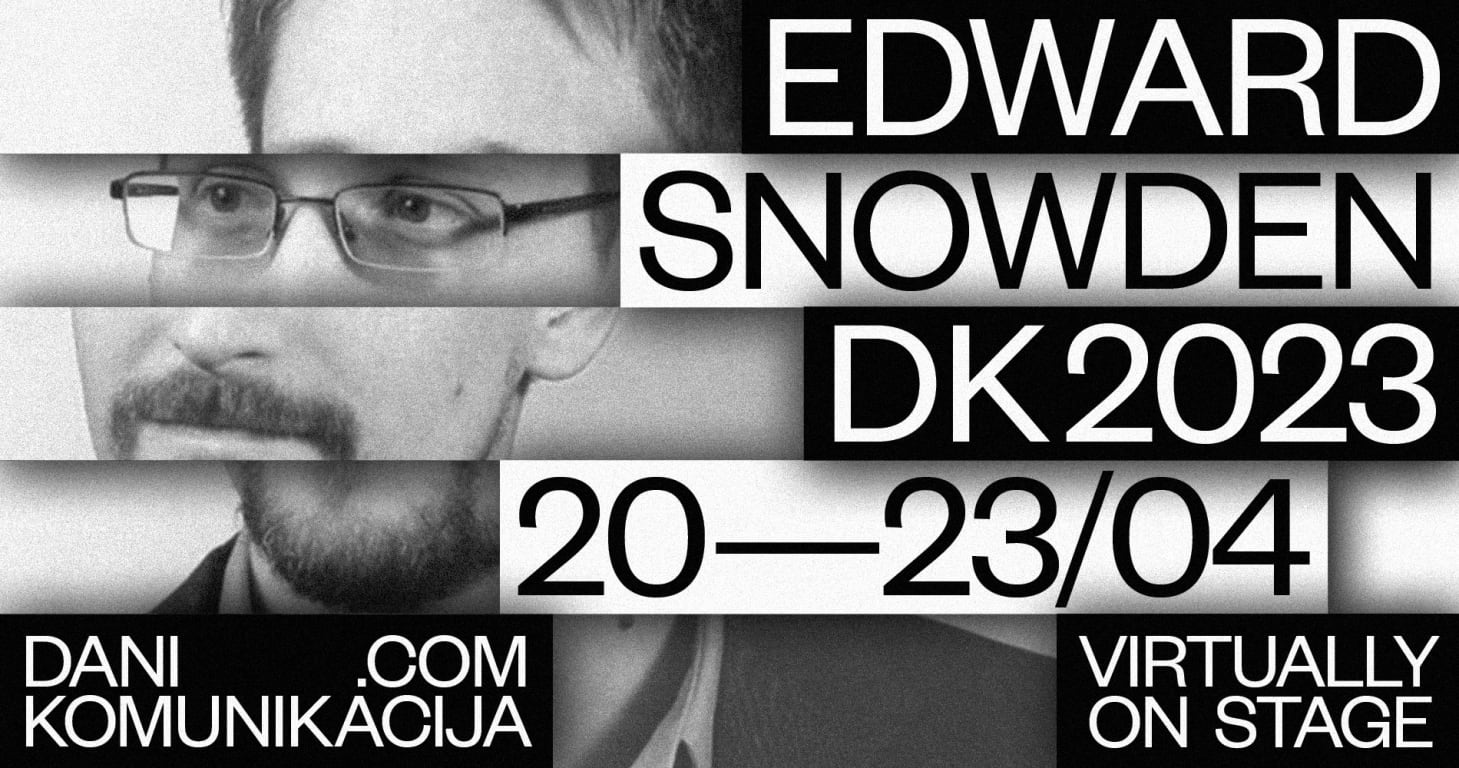 DK2023 will welcome its community of creatives, marketers, digital experts, media and other communicators in Rovinj this Spring – and host an interview via videolink with none other than global privacy icon Edward Snowden.

"Everything we do now lasts forever. Not because we want to remember, but because we are no longer allowed to forget", asserts Edward Snowden, who risked everything when he exposed the system of mass surveillance and shocked the world in 2013. DK festival, unafraid to ask unconventional questions and search for unexpected answers, is coming back to Rovinj on 20-23 April 2023 – with some familiar faces of the global creative stage!
"Snowden is one of the most prominent names written forever in our world history when it comes to privacy, public interest and cybersecurity, topics that we cannot and don't want to avoid anymore. In the era of privacy being at the forefront of everything we as communicators and creatives do, it is our privilege to have Snowden join DK festival, especially in the year that marks the 10th anniversary since the start of his criminal prosecution by the USA. Our community will ask unconventional questions to search for unexpected answers and once again become the centre of important discussions – and create their special experience at DK2023 festival", said Dunja Ivana Ballon, DK Festival & Program Director and Executive Director of HURA and IAB Croatia.
Already well-known for our unique festival program that defies the expected and inspires change, DK2023 will continue our mission of uniting everyone hungry for critical thought, new perspectives and innovative technologies. Not to mention a fresh dose of vitamin D, intriguing discussions and a special atmosphere that no edition of the festival can go without. The latter will be taken care of by the plethora of national and global speakers, among which is Edward Snowden, former CIA officer and National Security Agency (NSA) contractor that described his work as creating "the most effective means of social control in the history of mankind".
Over the last decade Snowden has been taking accountability for his past work, saying: "Helping to create that system is my greatest regret." His work at the Freedom of the Press organisation helped him find a way to redemption, and he has been focused on protecting public-interest journalism and educating about the challenges borne out of the interweaving of privacy and technology. He will share his side of the story live from Moscow via videolink, giving the festival attendees a chance to ask him questions, challenge their own beliefs and, if they want to, find out about Snowden's life now versus ten years ago.
DK festival doesn't stop there. If three days full of getting to know some of the most influential leaders of the global communications industry don't seem enough, you can also expect a myriad of talks and discussions by the best Croatian experts. "Those who are a part of our festival community are well aware why they come back each year – we cannot wait for a new dose of high-quality content, the most amazing encounters and new friendships that can only happen at DK2023", said Anđela Buljan Šiber, Chairwoman of HURA and Member of the Organizing Committee of DK festival, evoking the festival's special energy that awaits us this year.
There's a fine line between love and hate, but one thing is for certain – creativity sets us apart, while the communications industry that gathers at DK festival leaves no one indifferent. Creatives, marketers, digital experts, media representatives and other communicators that want to be in the company of national and global industry leaders are welcome to find more information about tickets and accommodation and join us at DK2023.